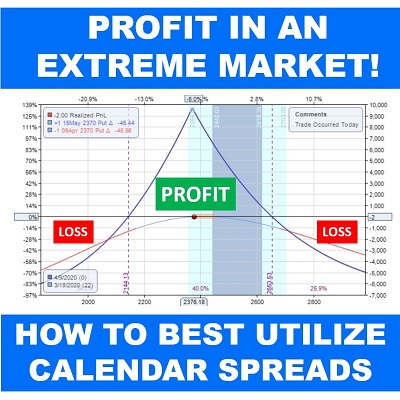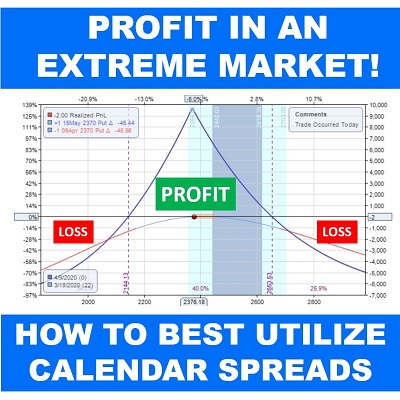 Extreme market profits can happen. These can be scary, uncertain times, but we are resilient! Instead to cowering and staying out of the market completely, our team is working harder than ever to support you on your trading journey, no matter what the market does.
What I can tell you for sure is that I am enjoying some great trading profits right now and I want to teach all my tips and tricks to subjective traders about how I am doing that with calendar spreads.
To that end, I am rapidly working on releasing a recorded, complimentary Enriching Session for the PRO Members of the Locke Options Community and will have continuing calendar spread discussions in the biweekly Trading With The Pros sessions.
These are strategies that I might suggest subjective traders consider using during periods of backwardation but they also could be used for adjustments to enhance other complex options trading strategies that you currently employ.
For non-subjective or GO member traders who strictly follow strategy guidelines, please carefully consider your potential risk and decrease your trading size to fit your comfort level. That comfort level might even be out of the market completely. If so, I highly encourage you to paper trade during this time as it provides a tremendous learning opportunity for you. Lastly for non-subjective traders, hang in there and know this challenging time will pass, the market ride will eventually slow and even out. Until then, gain all the learning you can!
If you aren't yet a PRO member and would like to starting trading with the flow of the market to greatly increase your odds of benefiting from current volatile conditions, I encourage you to click here to register to join our PRO member waiting list. Once our membership enrollment period is open later this month, you will receive an email where you submit an application to join our PRO membership. If you are accepted and join the PRO membership during the month of March, you will receive the complimentary access to the "How To Best Utilize Calendar Spreads" Enriching Session as a joining bonus gift.
Don't give into the uncertainty, because with the right perspective, these scary times can bring unprecedented growth and extreme market profits to those who embrace the opportunity. Step into greatness!