---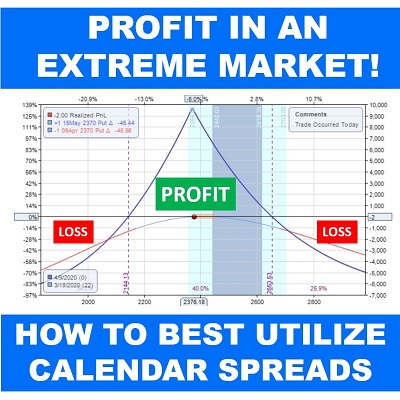 You can find opportunity in an extreme market with calendar spreads and we want to show the you how!
In response to the current crazy market environment our team has been working around the clock to support traders so they can continually profit no matter what the market does.
---
Learn How To Best Utilize Calendar Spreads now for $1,395

(To access any of our courses you must be member. Not a member yet? Click here to view our trading memberships. Member enrollment is always open for PRO membership and FREE Basic membership. )
---
One strategy that we are profiting with right now is a calendar spread. The goal with this options trading strategy is to profit from differences in implied volatility between expiration cycles and/or the passage of time with a directionally neutral strategy. The use of a calendar spread permits a trader to take advantage of the backwardation that tends to be present in highly volatile market situations by allowing the set up of positions that are high probability, have extremely favorable risk reward profiles, and are easier to manage than many market neutral strategies.
---
"I am a GO Member and just finished your Calendar Workshop. It was mind blowing! I have traded Calendar Spreads profitably for years, but I learned things about them in your course that I had no clue about. Really really great stuff!" – Nick from Washington, USA
---
Yes, calendar spreads can be extremely profitable trades, but only if they are set up properly. Unfortunately, most traders do not truly understand the strategy. Much of the information available on calendar spreads is not only incorrect, but completely opposite of what reality is. Naturally, this results in many traders having poor experiences with calendars. This is perhaps why the tremendous profit making potential in calendar spreads is often overlooked.
That is about to change.
In this 7 part video course with over 5 hours of content you will learn:
Specifically how calendars work and when they are most likely to make money.
You will discover how to evaluate calendar set ups in both long term and short-term time frames.
You will learn trade management as we demonstrate multiple adjustment strategies.
We will even show you how to utilize calendar and diagonal spreads to repair butterfly, broken wing butterfly, and condor strategies when they start to go bad or need a little boost in profit potential.
PLUS TWO BONUS VIDEOS with over two hours of additional content on Adjusting Broken Wing Butterflies Using Calendar Spreads was added to the course!
---
Learn How To Best Utilize Calendar Spreads now for $1,395

(To access any of our courses you must be member. Not a member yet? Click here to view our trading memberships. Member enrollment is always open for PRO membership and FREE Basic membership. )
---
"I am going through the course material now and am having an eye-opening experience. I can't believe I traded Calendars in the past without truly understanding how they really worked." – Bob from Ontario, Canada
"I am a Go Member and just finished your Calendar Workshop. It was mind blowing! I have traded Calendar Spreads profitably for years, but I learned things about them in your course that I had no clue about. Really really great stuff!" – Nick from Washington, USA